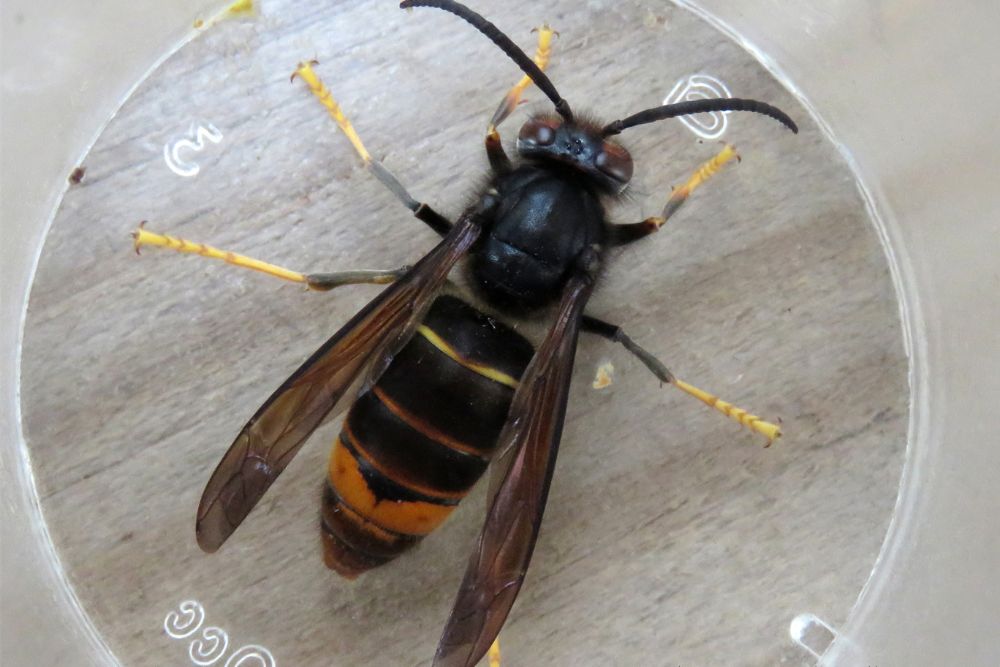 The number of Asian Hornets captured in Guernsey this spring has more than doubled.
20 of the invasive species were recorded up to the end of May, mostly in St Peter Port and the Vale.
In past years the highest number was nine.
It's believed persistent north-easterly winds have brought the queen hornets over from France.
Asian Hornets threaten the Bailiwick's ecosystem by preying on native pollinating insects.
Hornet numbers have also been 'exceptionally high' during April and May in Alderney and Sark.
Jersey is recording record numbers too, with 260 Asian Hornet Queens trapped so far this season. 80% have been caught in the eastern parishes.
Jersey's Asian Hornet group records next and queen sightings and trappings on a map.
Guernsey's 'Spring Queening' programme is part of wider work to prevent the invasive species establishing in the island.
Catching queens early reduced the chance of them producing large colonies of worker hornets.
"What is unusual this spring is the large numbers of these queen hornets that have turned up in people's kitchens, conservatories, and bedrooms. I suspect we are likely to see more queen hornets over the next two weeks while the wind direction remains set.
The good news is that across Guernsey, Herm, and Sark the work of the Asian hornet teams has resulted in the capture of 36 Asian hornet queens." - Francis Russell, Asian Hornet Strategy Coordinator,
The programme continues to 10 June.
After that date, surviving queens will be building smaller (primary) nests in sheds and outbuildings before moving to taller trees where they build bigger (secondary) nests, which are harder for hornet hunters to find.
The Asian Hornet Team will then begin a "Track don't Trample" campaign asking islanders not to kill any hornets.
Instead, it asks that you take a photo and watch what direction it flies in. That information can be used to track them back to the nest.
Asian hornet or nest sightings can be reported by emailing asianhornet@gov.gg, socialmedia or by phoning on 07839 197082/01481 220356.