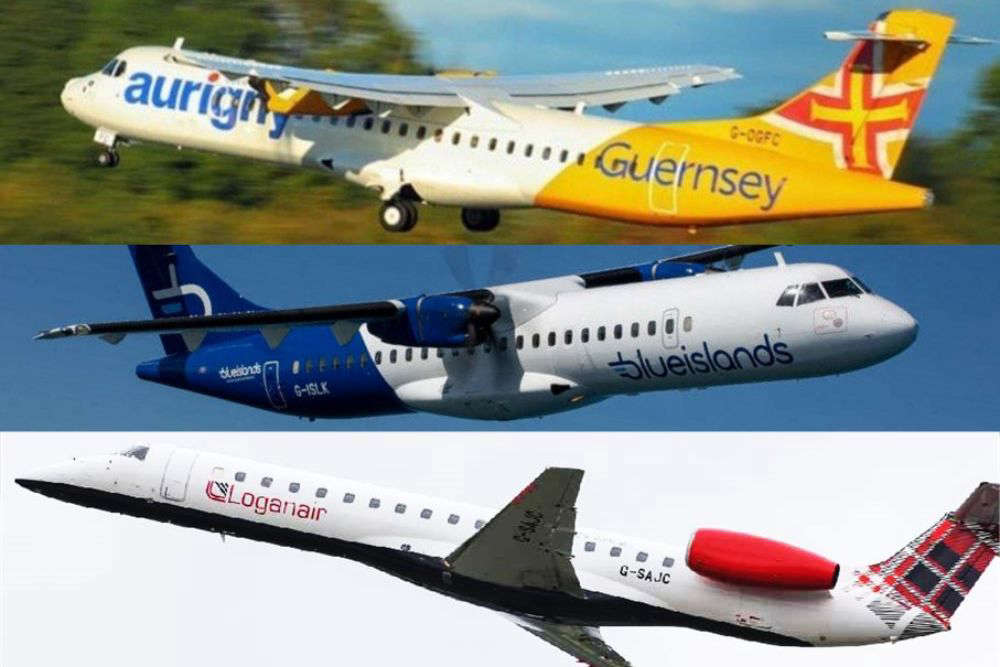 Better UK connections and coordinated frequent flyer benefits could be on offer as the airlines aim for closer relationships.
Currently, Aurigny and Blue Islands only offer direct flights to English airports.
The airlines' representatives say working together with Loganair will open up further connections to the north of England, Scotland and the Isle of Man.
Connecting flights will be on offer from airports like Bristol and Birmingham as well as those currently offered from Manchester and Southampton.
It's hoped that money will be saved in areas including maintenance checks, buying spares, and in training pilots and engineers by working together.
The main cost savings could be made in fuel purchases and ground handling.
Loganair CEO Jonathan Hinkles said he is delighted to partner with Aurigny as well as build on the existing relationship with Blue Islands.
"Working together will offer wider choice for customers and I'm heartened to see excellent progress already being made across areas of technical co-operation between the three airlines."
Chief Executive of Aurigny Nico Bezuidenhout said the airlines will provide better options to customers.
"By combining effort in the interest of improved passenger journeys, and through cooperation to the benefit of input efficiencies, the travelling public stand to gain from a more comprehensive and robust air transport offering, whilst simultaneously leaving the respective airlines better-placed to operate in a world where sustainability, reliability and customer-centricity make all the difference."
Rob Veron, Blue Islands' CEO, added:
"The simple aim of this initiative is to make air travel across the UK easier and to offer more choice.
By working together on a national network we will help make travel for business or to visit friends and family a better experience – wherever you live in the British Isles."
The changes will start to take effect in 2022, with combining frequent flyer benefits for all three companies first on the agenda.