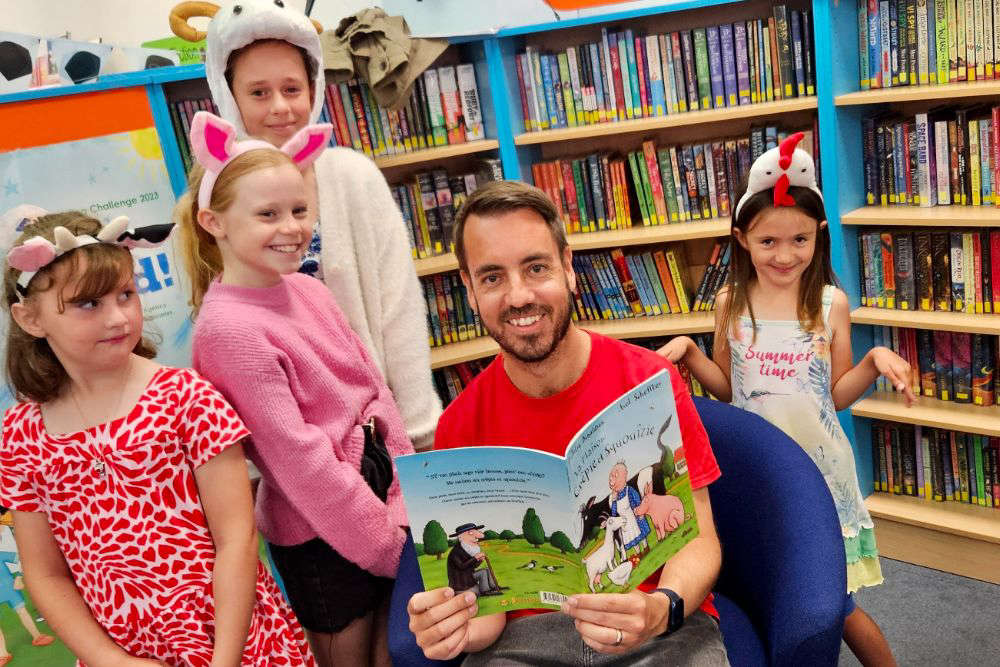 Ben Spink with the Office du Jérriais' version of Julia Donaldson's A Squash and a Squeeze. Credit Peter Mourant.
Jersey's Festival of Words is underway, with big name writers including Michael Morpurgo, Sheila Hancock, Peter James, Sophie Cousens and Poet Laureate Simon Armitage taking part.
The programme includes 65 events including talks, workshops and performances at various venues over nine days.
On Wednesday (20 September) the Poet Laureate Simon Armitage will be reflecting on his literary career and reading from new publication Never Good with Horses.
On Friday, crime novelist and Jersey resident Peter James will talk about this new book Stop Them Dead. Before that, actor and writer Sheila Hancock will discuss her Sunday Times bestseller Old Rage.
The 40th Anniversary of Michael Morpurgo's War Horse will be celebrated with a concert at the Freedom Centre on Saturday (23 September), with music from Ben Murray from the National Theatre production.
The following morning (Sunday 24 September) at Jersey Arts Centre, Michael Morpurgo will present his Tales of Shakespeare.
Other featured writers include Booker Prize long-lister Victoria Lloyd-Barlow, New York Times bestseller Sophie Cousens, science communicator Sophie Pavelle and historian Iain MacGregor.
Also part of the programme is a variety of talks, writing workshops, story-telling and activities aimed at families and children.
Free copies of Julia Donaldson's A Squash and a Squeeze, translated into Jerriais, were given out at Jersey Library at the weekend.
There will be a celebration in Millennium Park on Saturday (1pm-3pm), including story times with Heather's House of Stories and Penny Byrne, singing and signing with Jersey Childcare Trust and the Jersey Library Book Bike.
Plus, more than 1,000 schoolchildren will be taking park in the free schools programme events which include Nathanael Lessore's Steady for This, Matt Goodfellow's Let's Chase Stars Together and Isabel Thomas' The Bedtime Book of Impossible Questions.