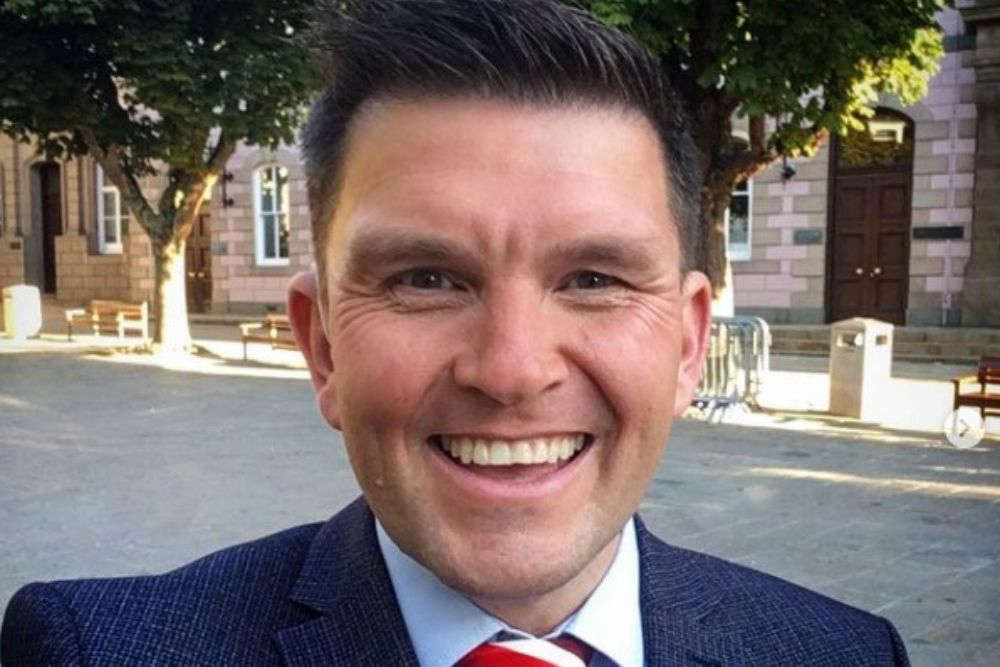 Channel Islands broadcaster and journalist Gary Burgess has died at the age of 46.
He passed away peacefully at Jersey Hospice Care on New Year's Day after being diagnosed with terminal cancer two years ago.
Gary was born in Manchester and grew up in South Africa. He began working in radio at Blackpool's Radio Wave in 1992, making cups of tea.
While there, he set a world record for the longest radio show - presenting for 76 hours straight to raise money for a new cancer unit.
Gary first moved to the Channel Islands and took to the airwaves on Guernsey's Island FM in 2003.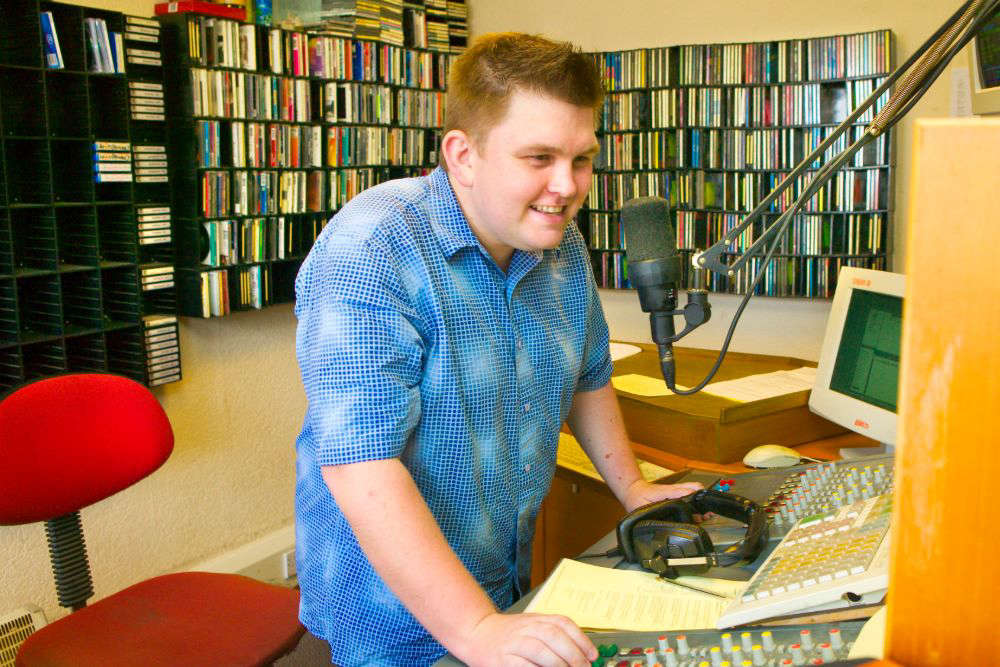 Gary presenting from the old Island FM studio (Image: Chris George)
After a few years he moved back to the UK, only to return to the Channel Islands in 2008 to present BBC Radio Guernsey's Sunday morning phone-in.
Gary then joined Channel Television in 2011 and moved to Jersey, becoming a regular face on ITV News programmes in the region in the years since.
Since 2018, he also occasionally presented the Channel 103 Breakfast Show before launching the regular 'Happiest Show of the Week' to lift spirits during the Covid-19 pandemic.
Gary and his husband, Alan, made history as the first same-sex couple in Jersey to tie the knot after politicians voted to legalise same-sex marriages in 2018.
So... we just became the first couple in Jersey to convert their civil partnership to a marriage. Number one on the new register. A proud moment. pic.twitter.com/bMuW7IYSyv

— Gary Burgess (@GaryBurgessCI) July 12, 2018
Gary was first diagnosed with testicular cancer back in 1999 which, although having spread to his chest and lungs, appeared to have been successfully treated at the time with chemotherapy. He was diagnosed again in 2015 and underwent further treatment.
Five years on, in November 2020, Gary's oncologist told him his cancer could not be treated and estimated he had 6-12 months to live.
Over the course of his treatment, Gary spoke openly about his experiences. He wrote a blog sharing his journey and sat down for an extended interview with his friend and long-time Channel TV colleague, Jess Dunsdon.
During the interview, he mentioned wanting to go on a cruise holiday he and Alan had been planning before the Covid-19 pandemic hit.
It led to an outpouring of support from islanders, including a crowdfunding campaign that raised more than £30,000 to send Gary on his dream holiday.
He asked that the money be donated to Macmillan Cancer Support instead.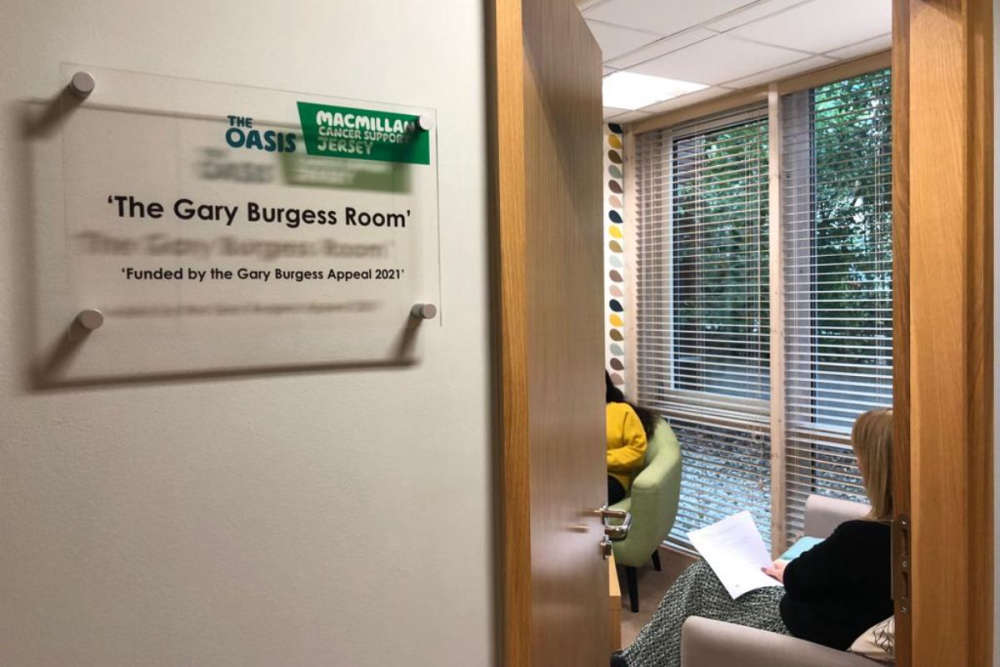 A treatment room at Macmillan's support centre, The Oasis, was named in Gary's honour
Gary retired from broadcasting in August 2021 to spend time with his family and friends - including taking that long-awaited cruise.
Islanders paid tribute to his work, with a 'Bang for Burgess' organised through social media seeing people take to their doorsteps with pots and pans to make some noise.
Gary was also awarded the Bailiff's Silver Seal for his contributions to island life.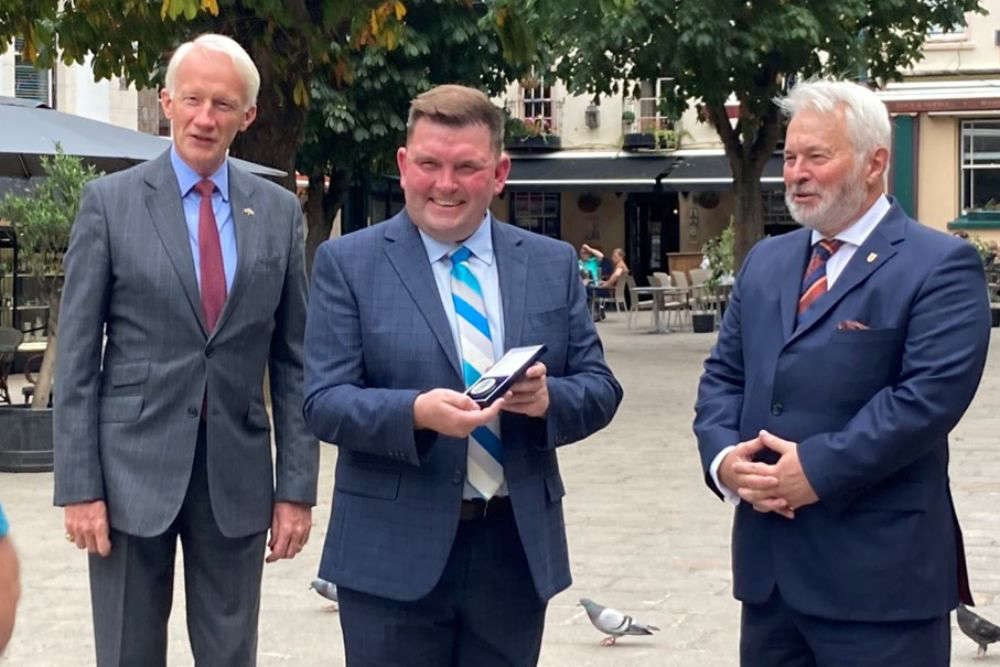 Gary receiving his award from the Lieutenant-Governor, Air Chief Marshal Sir Stephen Dalton, and Jersey's Bailiff, Tim Le Cocq
He continued writing regular columns in the Jersey Evening Post up until the week before his death.
Gary left one last message for islanders, to be published after he died. He wrote:
"I've had the best life. I've had the luckiest life. I met my soul mate and the love of my life who went on to become my husband. I got to work with some of the most amazing people in newsrooms and studios doing the job I absolutely adore. And I've been able to share my own relatively short time on this planet surrounded by friends and loved ones who have enriched my life in ways they may never truly understand.
"My greatest sadness is the prospect of leaving all of that and all of them behind. The thought of doing that to Alan is unfathomable to process, but I also know the very people who've shown me love and support will now wrap up those feelings around him in the coming days. It's time for me to hand over my microphone and keyboard for others to do the talking about me, so let my final words simply be 'thank you'. Every person in my life has, in their own way, helped me live my best life. That'll do."
Gary's husband, Alan Burgess, announced the news in the early hours of Sunday morning. He said:
"I expect there will be many tributes made to Gary in the coming hours and days and I want to keep my words about him now as simple as I can. Through his career in journalism and broadcasting, Gary would have seen every variation of words describing someone's strength and bravery, their wit and humour, their kindness and generosity, their stubbornness and determination, their sense of mischief and their joy in life's simple pleasures. So, in an attempt to avoid cliché, I am just going to misquote a line of dialogue from the final episode of The West Wing, being one of Gary's favourite programmes and something said with love and pride by one spouse to the other.
"You did a lot of good, Gary. A lot of good."
Alan's tribute on social media
Everyone at Channel 103 and Island FM is saddened to learn of the death of our friend and colleague, Gary. Station Director, James Keen, says he was an exceptional broadcaster:
"Gary was a rare talent – from managing radio stations to holding politicians to account, he was the ultimate media all-rounder, as comfortable behind the microphone as he was in front of the camera, respected by listeners and viewers alike.
"He'll be fondly remembered by all of us at Island FM and Channel 103 as not only a terrific broadcaster but a fun, funny and loyal colleague and friend.
"Our thoughts are with Alan, and all of Gary's family and friends, at this time."