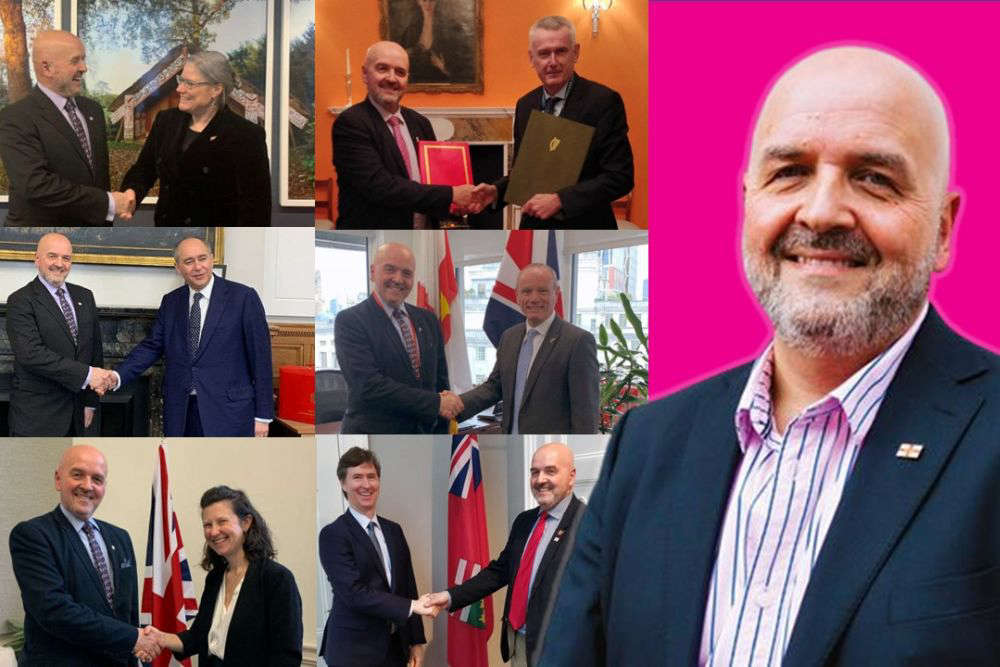 Deputy Jonathan Le Tocq talks to Island FM about his work as Guernsey's first and only Lead for External Relations and Constitutional Affairs, a job that takes him to the UK regularly and often further afield.
In 2016 the States of Guernsey conducted an internal review to reform government, which concluded that the responsibility of the island's External Relations should be separated from the duties of the Chief Minister.
Deputy Jonathan Le Tocq, after his time as Chief Minister, took on this role and has remained Guernsey's Lead for External Relations and Constitutional Affairs ever since.
He says there are a lot of benefits associated with Guernsey representing itself, and occupying seats at international forums, instead of relying on the UK.
He added that the value of his work is difficult to assess because the majority is conducted behind the scenes:
"I'm involved in early-on building relationships with other governments so that when a problem occurs it doesn't escalate into a crisis.
What I put on Twitter is only about 20% of what happens – 80% is avoiding things that might otherwise happen.
Brexit is a good example of this. That affected us, like it or not, and we knew that would be the case, so we scoped it.
We looked at where we thought there would be effects and I would say we got it about 75% right.
We were then able to say to the UK, 'okay, this is how we are going to be affected and do something about it'."
Topics of conversation
Deputy Le Tocq says when he goes away to lobby on behalf of Guernsey it's rarely for a general meeting. Instead, focused conversations take place.
In a post-Brexit world, he says fisheries, trade deals, and passports have been on the agenda.
He recounts his time with the Spanish Ambassador, José Pascual Marco Martínez, earlier this year when the validation of driving licenses was discussed - as the Bailiwick currently recognises Spanish driving licenses, but islanders have to retake a test if they wish to drive there.
He spoke on behalf of Guernsey holidaymakers and anyone wanting to move there, labelling the discussion productive:
"The ambassador promised to look into it, and in fact, it was only a couple hours after that I left talking to him face-to-face that we had a notification that Madrid had already been informed of this and wanted to talk on it."
Constructive dialogue with Spanish Ambassador HE José Pascual Marco Martínez on a range of issues of mutual interest, especially in the post-Brexit context. We look forward to welcoming him to the Bailiwick when he visits in the Spring @EmbSpainUK @Govgg pic.twitter.com/hZxuR7eA4S— Jonathan Le Tocq 🇬🇬 (@letocq) February 27, 2023
Environmental Concerns
As global travel is a key part of maintaining international relationships, Le Tocq says he often reflects on the environmental impact.
"In 2018 when I last did an analysis, I found that I was travelling for nearly 180 days. I don't think that was good.
I think we've learnt from the pandemic that we can have short, regular, and remote meetings that get information across."
He added that sometimes travel is determined by other governments:
"Where I get a little annoyed, which happened last year, is when particular states, like one in the Middle East, required me to be present to sign documents.
I was there for less than 48 hours having flown for five and a half. I was exhausted and felt that it was really not absolutely necessary but there will always be cases like that because we're not able to dictate how other parties want to do things."
Communication Skills
Speaking three languages, English, French and Guernsey-French has assisted him in the role.
He explains how he handles introductions and conversations with people from all over the world:
"Because I've spent a large part of my life in pastoral ministry I am used to speaking to all sorts of different people.
In fact, that subject often comes up when meeting someone for the first time, invariably they will say how did you get involved in politics, or what did you do before. So, I've always got a lot to say on that matter.
And they may have heard of Jersey, but not Guernsey, so I bring up a lot of the unique points about Guernsey, like when I'm in the french speaking world I will often speak about Victor Hugo and Hauteville House.
I wouldn't say that I'm the best networker around but I think that in terms of being able to represent Guernsey in its broader sense, then I would like to think that I do a pretty good job of that."
Future Endeavors
Deputy Jonathan Le Tocq says his workload will increase later this year when he travels to a Moneyval event in Warsaw, and when Guernsey hosts summits for Normandy and Brittany.