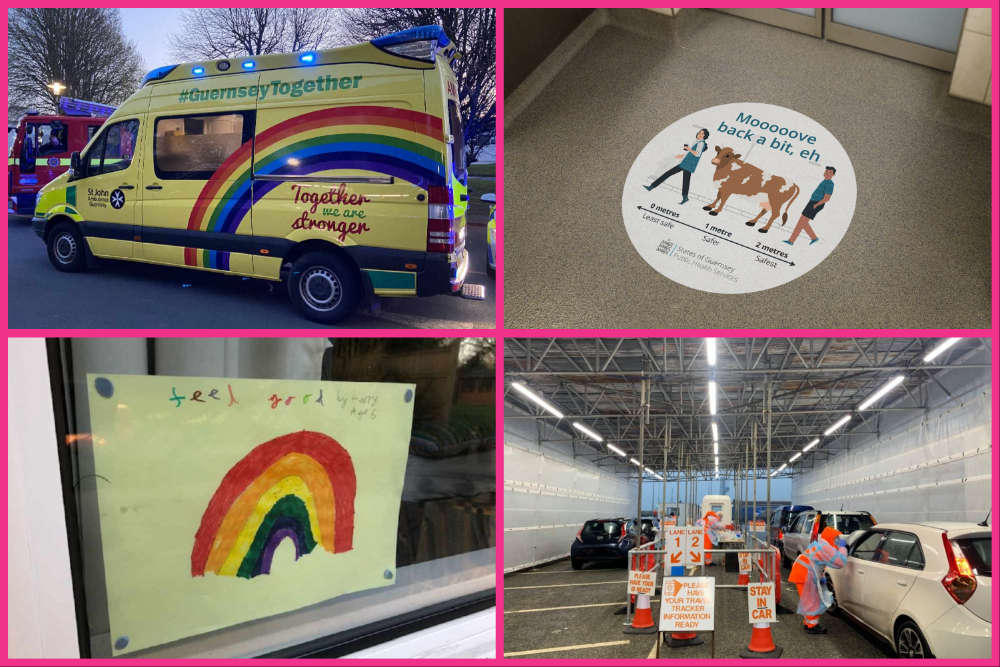 It's been three years since Guernsey went into its first lockdown to slow the spread of the 'new' coronavirus.
The then Chief Minister, Deputy Gavin St Pier has been looking back at the island's response in the spring of 2020.
Early Days
On New Year's Eve 2019, the WHO was told of a pneumonia outbreak in Wuhan, China. A week later health officials confirmed a 'novel infectious disease caused it'.
By the end of January, more than 21,000 people had been infected in the country and cases of the virus began to be found worldwide.
Deputy St Pier told Island FM that the virus was 'just something to be watched' at that time.
"It was from around the end of February onwards, as we saw the disease spread from China into Northern Italy and then it became obvious it was going to go further still, when it became something that was very close and we needed to take actions very quickly.
We had to start having conversations about what steps should we take, what options do we have, what's our testing capacity and what information we have and don't have."
The still unnamed virus was first found in the UK on 31 January, but it wasn't until 9 March that the first case would be found in Guernsey.
COVID comes to Guernsey
Guernsey's first case of COVID-19, as it was now known, came from an islander returning from a holiday in Tenerife.
Just a week previous, a hotel in the Canary island had been locked down by local police after an Italian doctor, who had travelled from the virus-besieged Lombardy region, tested positive.
The house was placed into mandatory quarantine by public health officials
Just two days later, the World Health Organisation declared the outbreak as a pandemic, the following day the government brought in a mandatory two-week isolation period for anyone returning to the Bailiwick, regardless of symptoms.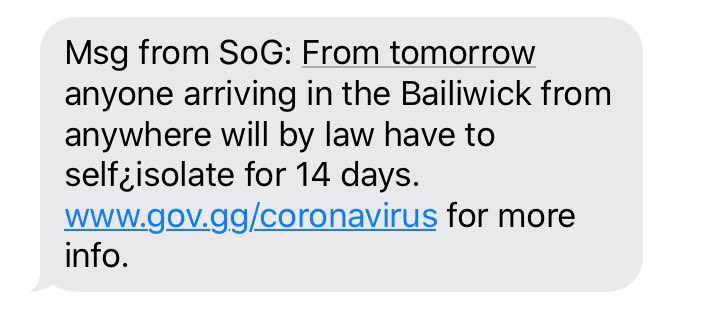 Gavin St Pier says that policy bought them time, as they were effectively blind to what was happening in the community.
"The challenge at the time was getting testing capacity because we just didn't have it on-island at the time.
We had to rely on getting access to the very limited capacity in UK labs, which were getting further and further backlogged.
That was the single biggest factor in our decision to close the borders."
A second COVID case was confirmed on 20 March, a day later 15 tests came back positive but health officials said that these were all imported cases.
More and more restrictions began to be imposed, with bars being told to close by 10.30pm and alcohol only allowed to be served with a meal.
Boris Johnson placed the UK into its first lockdown on 23 March, on the same day Deputy St Pier told islanders there was no need to lockdown Guernsey just yet.
But, the next day community seeding was confirmed and the CCA decided to bring in a stay-at-home order.
This is the moment the then Chief Minister announced the restrictions.
Guernsey enters lockdown
The government's decision to bring island-life to a standstill seemed to happen very quickly and Gavin St Pier says that was because so much was still unknown.
"We had to work on worse-case scenarios in terms of planning and resources and it was quite unnerving.
The decision to lock the community down, which really meant locking the community up in their own homes, was not lost on anyone.
This had not been done in living memory, definitely not in peacetime and it felt like that scale of emergency which required that."
As Guernsey was coming towards the end of its first week of severe restrictions on their lives, the on-island testing provision was set up and quickly identified a cluster of cases in a nursing home.
The first COVID-related death in the Bailiwick was confirmed on 31 March.
Lockdown measures were extended on 7 April for further two weeks, at which time 200 cases have been found in the island.
At the next review of the restrictions, the CCA announced their framework to come out of lockdown.
Deputy St Pier says that planning the exit was probably more difficult than deciding when to lockdown initially.
"Nobody anticipated that unlocking the island would be more difficult, everybody understood the scale of the initial decision.
How you unlock and what pace is more nuanced and in a way harder decisions because they are less black and white."
Guernsey unlocks
The beginning of May saw no new cases found for a week straight, with just 15 active cases by 7 May.
The island entered into phase three of lockdown on 15 May, a week earlier than expected.
Just 7 days later, after 15 consecutive days with no new cases, the government moved Guernsey to phase four - six weeks earlier than first thought.
It meant that hospitality venues could reopen as well as hairdressers.
After 88 days of lockdown and 51 days without a new case of coronavirus, life in Guernsey went back to normal on 20 June, but the borders remained closed.
The same day, the President of the Health and Social Care Committee, Deputy Heidi Soulsby spoke to Sky News about the new 'Bailiwick Bubble'.
Looking back at his response to the start of the biggest pandemic, Deputy St Pier told us what he would have done differently.
"I would probably unlock a little more quickly. Not hugely, but by a week or two.
The effects of social isolation on mental health and well-being weren't apparent at the beginning, we were conscious of the consequences thought. It became obvious later how detrimental locking was on people.
I'm always glad that we closed the borders when we did, that was undoubtedly a huge factor in Guernsey's outcome from the first wave.
There are always lessons to be learnt and I hope if something happened that was similar to what we faced in 2020, the person in charge has the benefit of our experience."
Today
Three years on from the first wave of coronavirus and life is, largely, back to normal.
The first dose of a COVID-19 vaccine was given to a matron at the St John's Care Home on 17 December 2020, and since then more than 178,000 doses have been administered.
Today (24 March), the Bailiwick began its rollout of the sixth vaccine for the over 75s, care home residents and the immunosuppressed.
Invitations are being sent out to the 7,000 islanders who are eligible.
Rapid lateral flow tests became available in 2021, which meant people could see if they possibly had COVID in just 15 minutes, but the community will no longer be able to get them from the start of April.
Director of Public Health Dr Nicola Brink says that's because the virus is now being managed in line with other respiratory tract infections.
"This further de-escalation of our testing strategy has been part of our ongoing planning and has been made possible by the significant progress we have made as a Bailiwick in living responsibly with COVID-19."
Testing will still be used in high-risk settings such as the hospital, care homes and prison.